The developed System is a tool for PR experts, marketing specialists and brand managers of large companies and enterprises. The System allows PR and brand managers, marketing specialists to track reviews of products, services and brands (their own and those of competitors), and also to immediately respond to negative reviews, reveal and inspire «brand advocates», determine trends and news topics, evaluate efficiency of PR campaigns.
The System collects data from more than 40 000 sites every 60 minutes and processes more than 1 million posts a day in total, providing detailed information on the audience, geography, sites etc. where a particular object is mentioned. About 50 indicators, charts and diagrams for analysis of the observed object are available in total.
The customer requested expert review from Byndyusoft after one of the leading developers of custom designed software in the Eastern Europe failed to design and implement a scalable solution with sufficient performance.
Problems of version 1.0:
Processing of data lagged behind the input of new data.
New data was received by the users with significant delay.
Preparation of data for new users took several hours instead of several minutes, which did not suit the requirements of the customer.
The System was absolutely non-scalable and refused to operate under load of only 10 users.
Reasons:
The architecture was based around Shared DB and triggers, which made impossible horizontal scaling of data processing.
Development was stuck because of inadequate covering of the system with autotests (about 10%), lack of UI tests and large number of regression errors.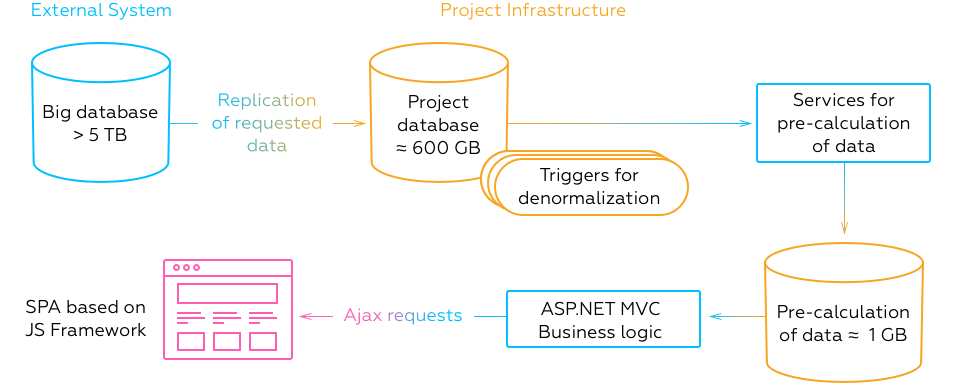 Works on version 1.0 were performed by a team of 6–10 high-priced IT specialists for about a year.
After Byndyusoft took over the development, the tasks for the first 3 months were stated as follows:
Completely rewrite the mechanism of report generation (calculation of assays)
Completely rewrite the user interface of data presentation and handling of reports.
Improve data processing so that the system would be ready for submission to beta-testing with a load of 50 users and volume of processed data equal to 250 000 posts per day.
Conclusions, drawn by the Byndyusoft team from mistakes, which had been made by the previous team in the design of the system, wide experience in development of high load systems and professional usage of flexible development techniques allowed to create a new version of the System in compliance with all customer's requirements in the shortest time possible.