Byndyusoft decided to stabilize the income of public procurement data, gradually rewrite the current code, and cover the code with tests.
Transition to horizontal scalability
Architecture of the decision was changed in two stages and moved to microservice architecture. At first, as an alternative to integration in Shared DB style message queues were used.

Data on documents were removed from the DB to the cloud storage AWS S3. This significantly reduced the load upon the DB, flow of information on documents started to come directly from the cloud.
Sphinx was reconfigured according to best practices relating to this engine to get maximum performance out of it. Full-text Search was replaced with search through Sphinx, this reduced the load on the DB.
Data flows in subsystems of data collection and analysis started to come through the queue, which significantly reduced the load on the database server. IronMQ cloud queue was employed, which is a part of AWS infrastructure.
All of this allowed to horizontally scale the load on all subsystems at the cost of acquisition of the most cheap micro-servers. Basically, scaling was achieved with just a couple of mouse clicks.
Current load
Project services continuously collect the following data from the official site of public procurement:
Data on new public procurement tenders and auctions
Changes in current tenders and auctions
Changes in details of suppliers and customers
Data on signed agreements
About 100 thousand of different changes are processed every day. All data are analyzed with a delay not more than 10 minutes. Data processing includes:
Analysis of document text and name of tender/auction
Clusterization and tagging of texts, location of statement of work in the documents
Searching for similar tenders/auctions of the customer, updating of data for similar tenders/auctions in the DB for the purpose of displaying to user
Recalculation of analysis relating to predictions of participants and prices
Sending of notifications to users
Changes after release
After the system was released there arose a demand for reduction of load on the DB, because its volume grew up to 500 GB and optimization of queries started giving problems.
Moreover, full-text search service Sphinx grew out of a single server because of large index volume equal to about 900 GB.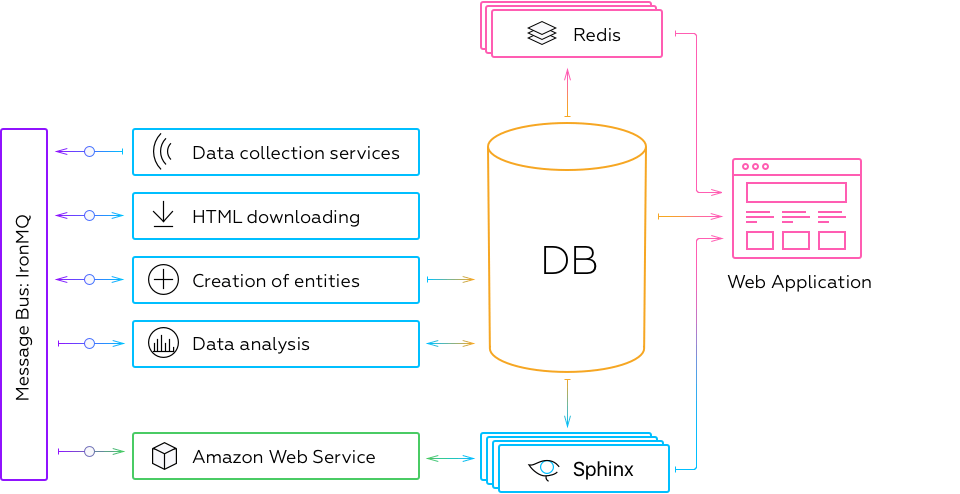 It was decided to move part of manuals, lists and other information, which did not affect the analytics, to NoSQL storage.
Sphinx was cloned to several servers, which allowed to find data in less than 0,5 seconds.